Introduction
Elm Farm is situated in the small village of Burnett which lies between Bristol and Bath. It is a working farm that is heavily committed to conservation and is in the Countryside Stewardship Scheme which is overseen by Natural England.
The farm is 112 hectares in size and consists of 17 hectares of arable crops, over 6 hectares of woodland and 3 hectares of crops exclusively for the benefit of birds and other wildlife. Field margins next to hedges and water are managed for conservation. Most of the farm is grassland grazed by cattle, sheep and ponies. Species rich grassland is managed to encourage insects, wild birds and mammals and in particular bats.The farm is home to a wide variety of birds including barn owls, skylarks and linnets. Bird numbers are regularly monitored and we have had positive results.
Although this farm has been in the same family for the last 250 years, there is evidence of much more ancient occupation at Elm Farm. The area was thickly populated in Roman times and there is the site of a Roman villa and a listed Roman vineyard in the village nearby. The Romans left the area about 410 AD, so the villa and vineyard must both have been used before then.
Part of the Wansdyke runs through the farm and is preserved under the guidance of English Heritage. The Wansdyke, a scheduled listed monument, is thought to be a defensive ditch, built in the sixth or seventh century by the Anglo Saxons, who took over after the Romans left. It may have been used to mark the boundary between kingdoms and it is believed that the name Wansdyke means Woden's Ditch, after the Saxon god Woden.
Burnett, the village in which Elm Farm is situated, was mentioned in the Anglo-Saxon chronicles and Saxon gold pendants, beads, Roman pottery and a stone Roman coffin have been found near the farm.
In 1084 Burnett and all of its lands belonged to William the Conqueror. Later, in the Doomsday Book, Burnett was held by "Ulward's wife" and the population of the village was shown as 36 – a figure which has increased very little since that time.

The 1700's
The hedges and field names are well recorded and we have the original schedule from 1755. The history of the farm since 1755 is well documented as it has been farmed by the same family since then.
There are records and evidence that coal mining took place at Elm Farm. However, the quality of the coal was poor and mining ceased in the eighteenth century. There remain clay pits which were used for making land drains and their remains can be seen today.
The 1930's – 1980's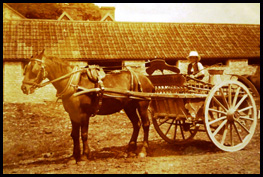 Levels of food production in Britain have varied over the years.
In the 1930's there was a slump, and farmers went through a difficult time. The price of food – and farm income – was very low until the Second World War when imports of food came to a standstill and there was a desperate food shortage. Here, like other farms, we were asked to grow more wheat to feed the nation. To do this we removed hedges and ploughed up old pastures. Little concern was given to the impact on the environment, all farms were working to avoid starvation.
This policy continued through the 1950's and 1960's. It was not until the 1980's, with the emergence of modern farming methods, that there was a surplus of food in this part of the world.
The Present Day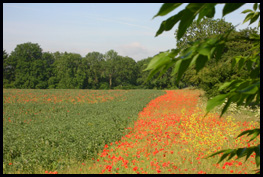 From the 1990's onwards, people became more aware of environmental and health issues. Over-production in this country today has led to compulsory restrictions on what we produce and how we produce it.
With the present problems facing farming in Britain, it is difficult to see far into the future, but, as with other farms, we have diversified. We have most of out farm in Environmental Stewardship schemes governed by Natural England which helps us to deliver effective environmental management of our land while still having arable crops and livestock. With the knowledge gained by this farm over the years and the on-going monitoring of wildlife, we are now in a better position to feel we are not having a negative effect on our land and surrounding land with our livestock and crops, and in fact have seen steady improvement from the surveys we regularly undertake. We work closely with many specialist groups to record, learn, educate and monitor what we are doing. Since 2000 we have invited the public onto the farm to demonstrate how we have integrated conservation with farming and the benefits this policy has for wildlife and the countryside.
As part of our Countryside Stewardship scheme school children visit the farm to learn about wildlife and farming processes as part of their curriculum. This can be anything from getting out onto the farm to see farm life, to learning about basic food chains, to specialist case studies on individual species of wildlife.
A walk around the farm would take you through areas of pasture, arable crops, orchards and woodland. Each area is planned with wildlife in mind and managed to encourage biodiversity. New hedges have been planted and others coppiced or layed to encourage new growth. There are six ponds that support a wide variety of wildlife
Continuing through the farm visitors are able to see land managed specifically for the barn owls and bats, and Red List bird species such as Yellowhammers and Sky Larks.
We have two traditional cider orchards, and an apiary nearby.